IBM SmartCloud Enterprise+ (SCE+) is a highly scalable cloud infrastructure targeted for productive cloud enabled managed workloads. These target workloads make SCE+ a little bit heavier than SmartCloud Enterprise (SCE). The boarding of new clients alone takes a reasonable number of days to establish all the management systems for that client. This somehow applies to provisioning virtual machines, too. Due to the service activation process that is required to be completed before a managed system can be put into production, the provisioning time of a virtual instance takes at least some hours instead of just minutes on SCE. However, that is still a major improvement compared to a traditional IT where the provision of a new server can take up to several weeks!
The benefit of SCE+ is the management and high reliability of the platform. This makes it the perfect environment for core services and production workloads that can easily grow over time to meet the business requirements of tomorrow. Even scaling down is possible to a certain extent. However, if you need to react on heavy, short peaks of load, you need a platform that is truly elastic and can scale up and down on an hourly basis.
What you need is an elastic component, put on top of SCE+ to leverage SCE+'s high reliability for the important core functions of your business application, but have the possibility to scale out to a much lighter – and probably cheaper – platform for short peaks to cover the load. SCE provides all the necessary features you would expect from that elastic platform.
As shown in the video, f5's BIG IP appliance can be used to control load on servers and scale out dynamically to SCE as required. The base infrastructure could be SCE+ as well as any other environment. However, what is required is a network connection between SCE and SCE+ as this is not part of any of the offerings.
The easiest way to establish a layer three connectivity between SCE and SCE+ is to create a Virtual Private Network tunnel between the two environments. Several options for that are feasible:
Connecting a software VPN device or appliance on SCE to the official SCE+ VPN service
Connecting a hardware VPN device or appliance on SCE+ to the official SCE VPN service
Use the Virtela Meet VPN service to interconnect VPN tunnels from both environments.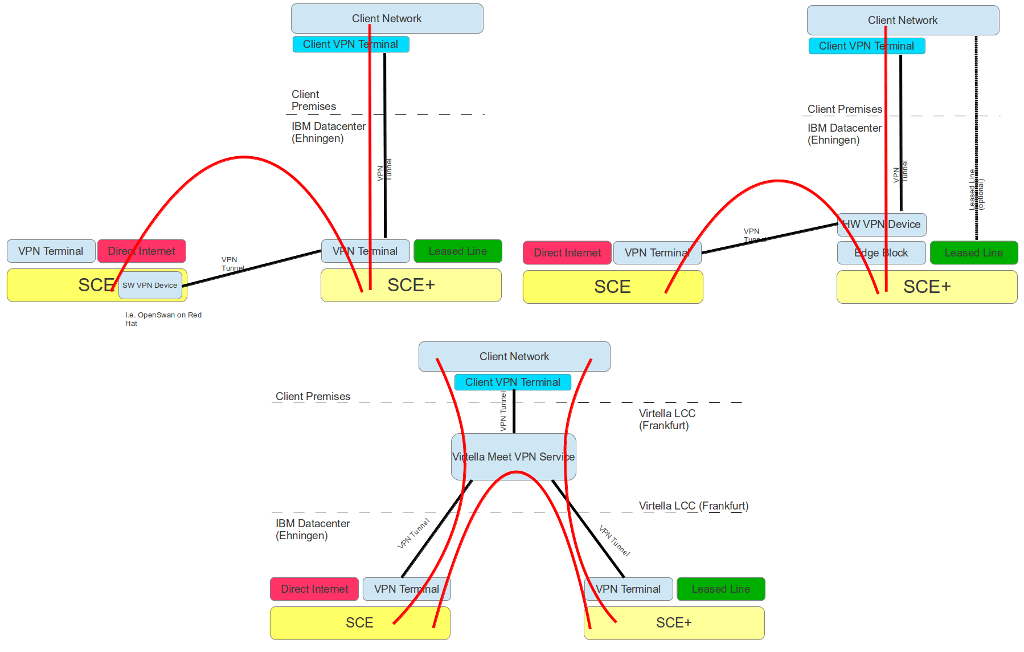 Summary:
SmartCloud Enterprise can be used to make SmartCloud Enterprise+ elastic. Several options exist to interconnect the two environments and leverage the benefits of both environments for specific use cases!